Have you ever noticed that if you are really trying to organize something, it is always messier before it's cleaner??
That is how my life is right now. I have been a little absent from the blog (and I've greatly missed it!), but amidst the organized chaos of my life at the moment, it has had to be pushed aside a bit.
So in an attempt to "organize" the past 2 weeks, here is a listed update of my life (if anyone is interested :)...
1. After finals, I had a week off... but it was a very full week in which I tried to organize my apartment... and this is STILL going on now. (It looks cleaner to me, but I don't know if anyone else would think so... but I know that it is more organized than before.... it's a process, right?)
2. I babysat sweet Hannah again...
and I also watched sweet little Carlee, the daughter of one of my professors.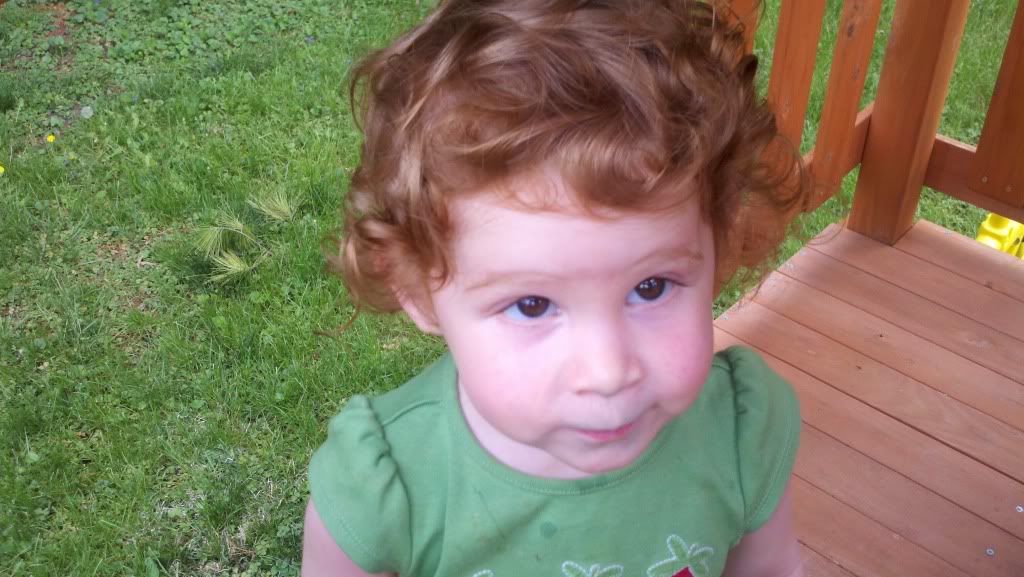 My, oh, my... I love those red curls!
3. I have had some much needed friend time.
4. I've snuggled with this girl... (of course, this happens regularly, but I needed an excuse to post a picture of her...)
5. I started summer classes on this past Monday. For whatever disillusioned reason, I thought I would have MORE time in the summer.... boy, was I wrong! At the moment I have class 4 days a week, and two of those days are EXTREMELY long with only one 30 minute break between classes.... not to mention all the homework that must happen outside of class. Thank goodness I love what I'm learning!
6. The good news is that I see my lovely friends 4 days of the week. Somehow, it makes it more bearable.
7. I am now assisting in the wonderful research of a new Wheaton professor! (It feels a little weird to be excited about research, but this is such a great opportunity, I can't help it!)
8. I'm cleaning/organizing. Still.
9. I've battled a cold/sinus infection/earache and a migraine this week (I'm fine now, but this definitely put a kink in my ability to complete tasks.)
10. I bought groceries yesterday.... there is no need for me to tell you how long I've gone without buying groceries. Suffice it to say, it's been a while.
11. Today, other than doing a million little things on my list... I have a baby shower to go to, and then a birthday party this evening.
12. I'm painting, painting, painting! I have several projects in the works for friends and family, and hopefully, I will be finished in the next week! (And I will post some pictures, too.) Here is a painting I made for a professor last week...
"You must submit to supreme suffering in order to discover the completion of joy."
(My professor went to Calvin College... and this is just a very therapist-like quote.)
13. Tomorrow is the memorial service for my friend Julie's brother. Prayers are still appreciated for Julie and her family! It has been a very rough week for her, and I think the next few days are only going to be more challenging as the shock continues to wear off.
So that about sums up the organized chaos of the past 2 weeks. I hope that in the next week or two, things will begin to slow down and the organized chaos will begin to look less like chaos and more like organization.... but we shall see! Hopefully, this will also lead to a more regular posting schedule! :)
Love to all, and I hope you have a blessed Saturday!